Amazing.
I've waited almost a year for this and today was finally our confirmation in the Catholic church.
It was just so beautiful and powerful and even the young kids getting confirmed at the same time were amazed when the bishop suddenly walked up in front of them with the golden shepherd's crook and everything. They gasped and almost took a step backwards. (During the rehearsals they had been giggling and goofing around a bit. Now it got serious.
)
Why we were not confirmed as children is a long a complicated story, but I'm glad I got to experience this as an adult, now that I know so much about church and the rituals and actually have an "adult faith". And we got to do it in a church and congregation that we love, the bishop is very sweet and kind and really explains things well.
And we got to have our dear friends by our side again.
It was just a happy, lovely day. Even a priest from another congregation that we know was there and came and congratulated us.
Our own priest, who has been our teacher in theology class and did all the preparations for it, he was really happy and even gave us a gift. Everyone gets one from the church, but we got one from him personally.
My husband and I right after the ceremony.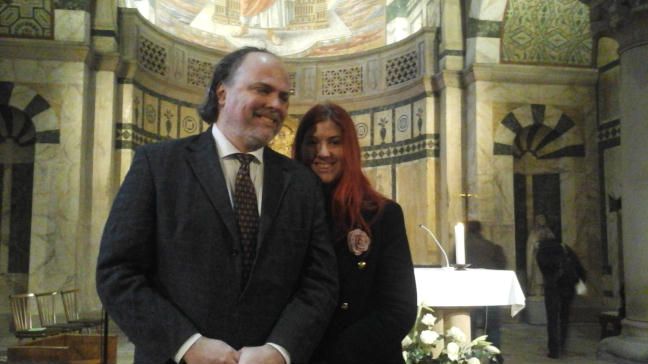 With Father Pierre and our Patrons, Arnaud and Doris, who were also our wedding witnesses. They did smile and were very proud and happy, it's just that they both kind of have an average of 8 words and 2 facial expressions a week.
We could not take pictures during the service, so I have none of the bishop. The church will post photos later on.
If you are not that interested in church it might not seem like such a big deal, but it was still beautiful and people were really happy for each other.