The photo colette posted, I'm loving Paul's shirt. It's hysterical.
He looks really good as always.
(I think I saw that shirt in a shop here in Berlin the other week.)
Well... he looks really good up close as well. This is me and ReiseReise with Paul last night. We went out to a place in my neighbourhood and Paul was there his whole family. His wife, his son and daughter, his tiny little lapdog (a brown miniature pincher with a jacket on). We introduced ourselves as we left, he was happy to take some pics with us. It was so funny, Paul was a bit tipsy, he still had food in his mouth and was trying to chew as fast as possible before the photo... which is why his mouth looks a bit weird in the photo.
(No, we didn't bother him while he was eating, Paul just decided to continue eating as he is leaving.
) He was cross-eyed for a moment and checking ReiseReises muscles out before RR put his jacket on, then tried to tense his own muscles to look bigger.
He made sure to stand one step higher than us and stretched up so much he almost fell forward.
ReiseReise is actually a few inches taller than him and Paul and I are the same hight. Then he checked out ReiseReise a bit more and his wife got sick of him, gave them both a dirty look and left. She said hi to me though. She's really beautiful. Paul was very sweet to us. Vielen Dank Paul!
He didn't leave right after the photos and when he smiled at us RR told him that we look forward to seing them live again. "Me too" Paul said, waved goodbye and ran after his family. The barman (a friend of
) gave us free shots afterwards. Insane, awesome night.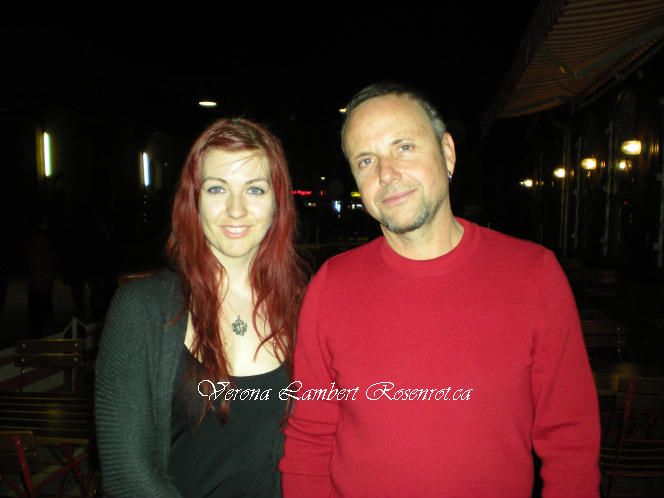 (Look at Paul's mouth.
)
The photos belong to me.