A little report and some photos fromn the concert and afterparty on the 8 June 2016. I didn't take many photos because I just wanted to relax and enjoy the show and at the party I didn't want to shove a camera in everybody's face all the time. I might write something more if I can think of it later and you can just ask me stuff. I'll try and answer. Enjoy!
Waldbühne, Berlin. This arena is almost identical to Wuhlheide, so it confuses a lot of fans. Waldbühne is WAY out in the West end and Wuhlheide is WAY out in the East end. If you go to the wrong one (some fans did) it might take you 2,5 hours to get from one arena to the other.
We got there about half an hour before they let us in, luckily we ended up fairly close to the entrance, but it still took 1 hour and 45 minuted to get in, because they check the tickets and security so carefully. People at the very back must have got in just in time for the show to start.
Don't worry, the arena filled up soon enough. My husband and I could sit in the empty part in the middle (invited people, staff and family section) but we preferred our seats up here. The view was awesome.
I got a bit of a shock as I stepped into the actual arena. You can't tell from any photos, but it is SO STEEP!
If you stumble up there, you and a lot of people are going to fall down and break your necks. I was actually a bit scared when we left, because some people were drunk.
Peaches as opening act was hilarious!
I loved it, my husband thought it was awful and so did other people. It was basically half an hour of dirty words and verbal abuse, but she was sooo funny and it was actually clever how she could connect so many bad words into one long sentence.
The lyrics were things like "D*ck d*ck b*lls! A d*ck and two b*lls!", "Can't talk right now, this chick's d*ck is in my mouth!", "I'm not f*cking in the dark!" and "f*ck the pain away" and so on...
Just to give you and idea.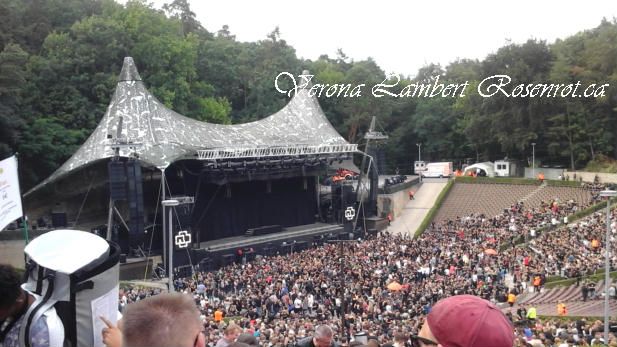 My husband Paul and I, waiting for the concert to start. Everything was very calm until the countdown started. Then everyone stood up and the energy in the crowd was just awesome.
Even though we were pretty far away, you could feel the heat of the flames. I've been front row in Sweden. It f*cking hurts and you walk away pink.
It was lovely to see all the fans sing along and just let go and enjoy it. Best crowd ever.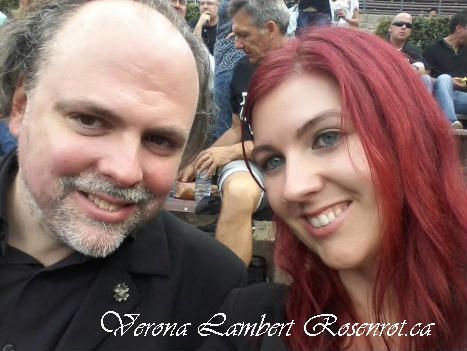 These are our afterparty bracelets. They all have a unique serial number on them. I knew we were invited since the end of May, when some friends of
were over at my house. The man who arranged the whole party and works with
, came over to me when I was watching the football game in Berlin and gave these to me himself, the day before the concert. He is the same man who gave me the VIP-tickets to the football game and invited me to the rehearsal on Saturday. I didn't go, because it was my husband's birthday. Close friends of
, who were also invited to the rehearsal, came over to my house instead.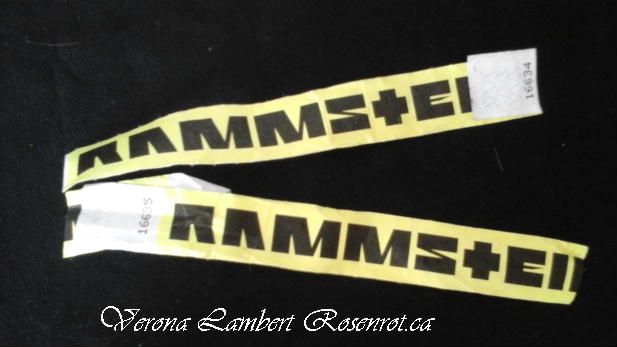 The afterparty was at Olympiapark, about 200 meters from Waldbühne, so everyone just walked there. There were MANY guards along the way checking our bracelets, but they were all very polite and friendly, showing us the the way and telling us to enjoy the evening. When we got to the right place, the old guard by the door recognised me.
I remember him from the afterparty in Stockholm.
Olympiapark is very classy, beautiful and calm place for an afterparty. This is where the big sport stars usually stay during events. Very different from the afterparty in Stockholm that was in a nightclub, an old metal shed in an industrial area.
It was just as calm though. Nobody is too drunk or unpleasant or rude.
The party was very calm. They had a big buffet in the garden with absolutely lovely, delicious food.
Vegetarian too, if you wanted it. There was a cocktail bar outside and another one indoors. We had some of the
vodka and it was sooo good!
All the food and drinks are free. It's a gift to the fans. Same at the Stockholm afterparty.
The garden was really cosy with some reclining chairs, sofas and tables, stage stuff from the tour here and there and the lights in the garden was coordinated with the music playing, just like at the concert. They really put a lot of work into this.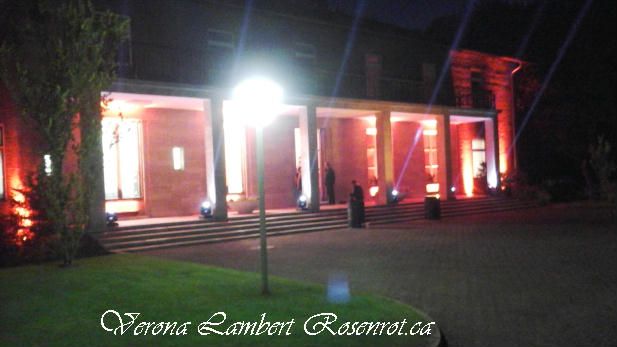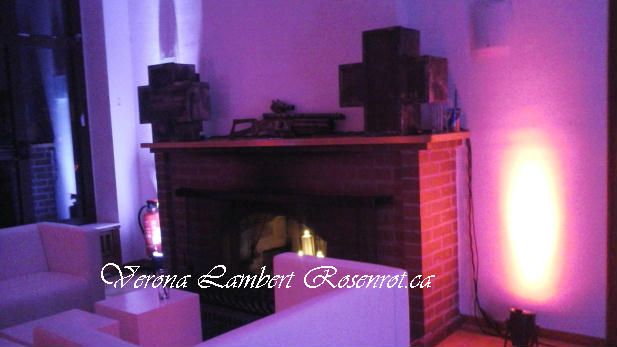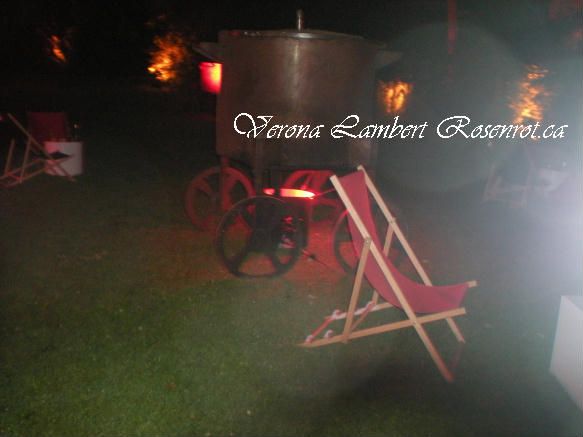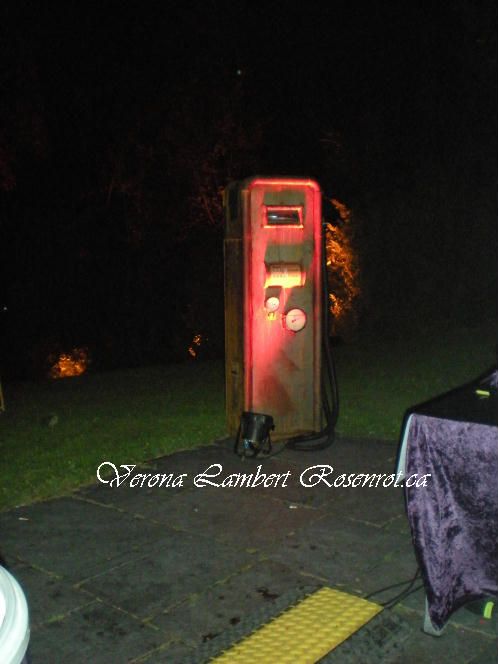 This just says: "Dear afterparty guests, warm welcome, lovely to have you here. This is a protected old building so please don't smoke indoors."
The
guys arrived after a little while, they just walked in calmly. Noone ran up to them or bothered them. They said hi and were very polite. Schneider recognised me, gave me very freindly smile and greeted me, Jacob Hellner, their producer also recognised me and said "Hiiii!
" with this big smile. He is such a sweetheart.
They all are. I have met them many times in different places and they have always been very friendly, calm and down to earth. They listen to you when you talk, they are always willing to shake your hand and take a photo with you. I call them by their last name, introduce myslef and ask if they have a minute. Never been a problem. I've never asked them for an autograph and I've never talked to them about their work.
Richard seemed a bit anxious when he arrived and he jumped when my husband said hi to him.
He apologised to me after the photo and said "I'm sorry, I can't calm down." But he smiled and chuckled when my husband told him we (me and Richard) are both pretty.
Schneider was patient and friendly enough to take a second photo with me after the first one turned out to dark. Schneider told me he was not really happy with the show. He said Tills voice "disappeared" a few times. We noticed, but it did in no way ruin the show. The problem wasn't Till's ability to sing, it was the sound and his microphone. Schneider also said that they couldn't quite give all the energy they wanted to onstage and that it was frustrating. We didn't really notice this during the show, but of course, this is his job, he knows how things are supposed to be and I can understand that it bothers them when things don't go as planned.
Schneider was afraid of my Galaxy Tab.
"What is that thing? It's huge!
"
I talked to Flake as well and told him I really enjoyed reading his book and that he is a good writer and should keep it up. He thanked me and said he had a lot of fun writing the book. I asked if it was okay to give him a hug and he said "Of course!
" It was the first time I had a chance to actually talk to Flake. He is such a sweetie!
Paul's wife was there and they were hugging and cuddling for a long time. All the guys and Jacob Hellner hugged their friends and they were just sweet and calm to everyone.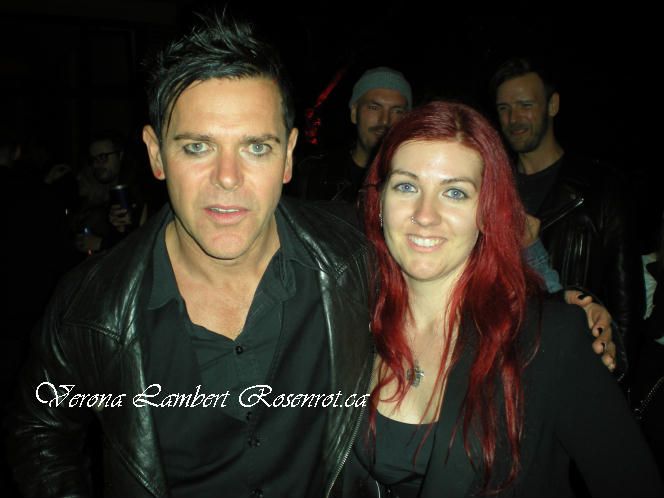 Paul had... a bit to drink.
We tried a few photos and I think this was the best one.
Blinking with one eye at the time and shaking your head like a dog has NEVER made anyone look more sober. Just saying...
And Paul asks: "Did it turn out?
" My husband and I just looked at each other, then nodded and said "Thanks, Paul".
I'm laughing in the photo because I am laughing AT him.
Paul walked away again, cross-eyed and smiling.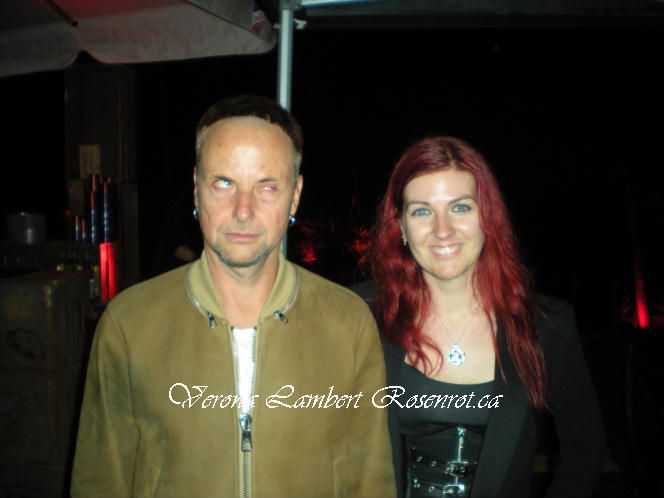 Till was not at the afterparty I was at. At least not while I was there and we stayed pretty late. Noone, not even the band, knew where Till actually was.
Schneider said that Till and the guy who invited me and arranged the party may have gone to a more quiet bar together, but noone knew for sure, or why.
Souvenir from Waldbühne. The gorgeous cups they serve the drinks in.
My husband and I had one each and then ReiseReise was kind enough to get me the one with flowers on it. Thank you!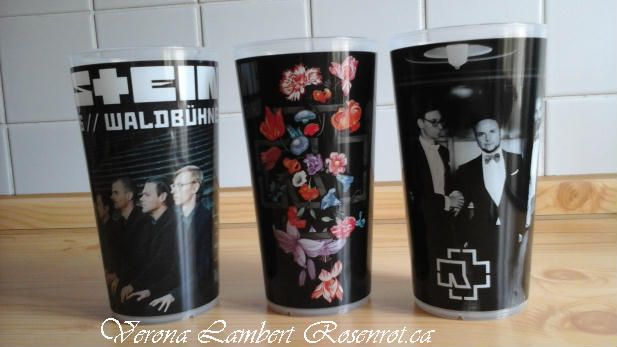 Memory for life.
Thank you so much Thomas for inviting us to the party and thank you to our friends Tolga, Arno and Niko for arranging this (and for speaking so well of us
).
(I know you people read this stuff.
)