My husband and are seeing the
in Paris at the cinema on our street.
I look forward, I really like Jonas Åkerlunds work. I'm wondering if the documentary will be shown somewhere or when? Didn't it say he also did a documentary that was to be included in the DVD? Is it just for the DVD release? Does anyone know?
Seeing
in the cinema is really something special. I saw the last release in the cinema, at Kino International. It was almost like a concert, except you had really comfortable seats and noone was pushing.
The screen was curved, they turned the sound up really loud and everyone got right into it.
***
So I went to listen to Flake when he read from his book and it was such a great evening. It was at the Prater theater (not Prater Biergarten, but the next building), it's the little stage of the Volksbühne.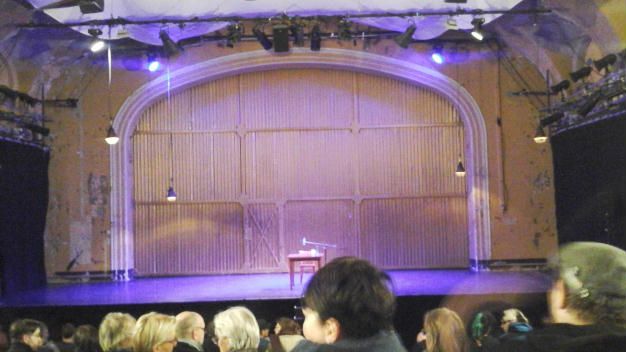 It's worn down, sh*tty and just totally cosy and even the most fallen apart place has chandeliers in the ceiling. So Berlin and with that East-Berlin charm.
Everyone was totally calm, there was basically no security, the doors were wide open, right in the middle of a lively, busy tourist area. You'd never guess there was a rockstar inside. This is what I love about Berlin. Noone cares.
I ad a glass of sparkling wine at the bar in the entrance and people were just hanging out, waiting for the show. I love how relaxed it is here. Same at the signing at Kino International.
Flake is so cute and funny, he comes out on stage and just says one funny thing after the other, but he is still serious about some things. He's quick and tells a story really well. His book is written pretty much the way he talks, except not written in extreme Berlin accent. Then a lot of people wouldn't understand.
He even read a part that wasn't in the book, it might be in the next book if it's ever published. It was a part about him and Till onstage, how exactly Mein Teil is performed and what can happen onstage. Very detailed, very interesting.
Afterwards Flake stayed and signed books and other stuff and I ended up standing right next to him most of the time.