(okey, my friend came up with this one XD she tought that in this picture, Flake looked like a turkey!!! XD )
gubel gubel gubel!!!
Flake: hmm... what? PAUL!!! THIS IS THE LAST TIME YOU PUT A "F*CK ME" PAPER ON MY BACK!!!!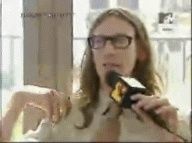 Flake: do you like my hair? i some times like to do the "charlies angels hair flip" with it!!!
(just thinking of flake doing that.... *shudder* no man should ever do that...)
Richard: are you shure Till told us to do the chiken dance Paul?