Kettenhund's Guide to Berlin - My Recommendations and Some Useful Advice
Since many
fans end up going to Berlin and a few have asked me for advice, because I know the city pretty well, I thought I'd create this thread to share some information you might need and recommendations on what to see and do in the different parts of town.
Many of my recommendations are about food places and what to eat, and it is really the best way to get to know Berlin. It's pretty easy to find locals and get to know people. Berlin writer Wladimir Kaminer said, "What the locals do during the day - I have no clue, but in the evening, they go out to the cafés and bars, hang out and have a good time".
Good to Know about Berlin
A few guides mention that when a lot of people first come to Berlin their reaction very often is:
"Oh my God… is Berlin Really this ugly? Oh f*ck, I should have gone to Vienna instead…"
And in a way it's true. Berlin is not really that pretty. It does not look like Vienna, Paris, Brussels or Barcelona with endless rows of beautiful buildings, a town square and lush parks full of flowers. Berlin is concrete, concrete, concrete, spray-paint, broken or run down old buildings and lots of construction work that seems to take forever (because in Berlin it sure does). Just because you end up on a street with cracked façades, boarded-up windows and paint coming off the walls, or you walk past a swarm of half-naked prostitutes - it does not mean you are in a bad area. This is Berlin. You will find such streets right in the most popular and lively shopping or upper-class areas.
But there are beautiful places in Berlin, and if you appreciate alternative things and a different kind of beauty, see the charm with chipped paint and mismatched old furniture, or you are willing to look around for beautiful places, then you will love it. To me Berlin is a very beautiful city. (Not every single place maybe… )
Berlin is gritty. In the average Berlin café/pub/restaurant the paint is coming off the walls, there are cracks in the ceiling and the furniture look like a mix of stuff from the nearest flee market and stuff that was picked out of the nearest dumpster. No matter if it is a cheap place or a more expensive one. This is Berlin, this is where the Berliners go, this is their home. A lot of tourists who return from Berlin describe it as "poor" or "ghetto". Berlin is not like other capitals. Not everyone likes it, but the people who do, fall in love with the city.
Average "cleaned up" street in Prenzlauer Berg.
Berlin has no city centre. This confuses a lot of people. Berlin consists of several parts, that all have their own centre, some parts even have two. Berliners typically stay in their own part of town and don't spend more time than necessary in other parts of town. Therefore, people who identify as Prenzlauer Berg inhabitants do not identify with Kreuzberg much for example. They very often do not know much about other parts than their own either. My friend who is born in Friedrichshain in East Berlin asked me the second time I went to Berlin: "Mitte??? What's there?" and when I told him he said: "They have that in Mitte?" The guy had lived in the city for 30 years. Typical Berliner.
When people point out that my other friend knows a lot about the whole town and gets things done in time, he tells them: "Yes, but I am not a Berliner."
Berlin is still very much East and West. Even though the wall is no longer there, it is still a divided city. You notice a clear difference between the two parts. Some areas have shifted in a way, when it comes to the scene. Kreuzberg in the West became a kind of "new East" and Prenzlauer Berg in the old East got a more polished West touch to it. Berliners still talk about it as east and west Berlin. Even
mention "going to the west". when they talk of those parts. Not quite the same among the very young Berliners (unless they pick it up from their parents).
This is a photo of what Berlin looks like from the sky. Even today, East and West have different colours. This is because they use two different kind of street lights.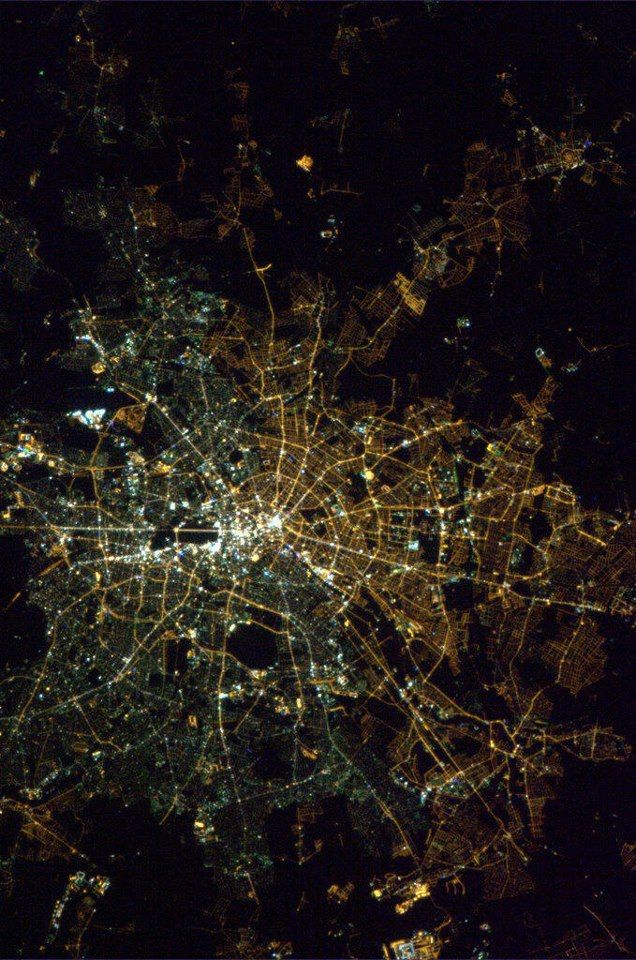 Berlin is not a very German city. It's not the place to go to do typically German things or eat the most traditional German food. Berlin is Berlin. It has it's own charm and is a crazy mix of things that don't really fit together at all, but somehow works anyway.
Most people speak English in Berlin. Even the ones that are pretty bad at it will usually try to make you understand. There are only very few places I know of where they did not speak any English. Sometimes it's even hard to find someone who speaks German or lives in Berlin or someone who is actually from Berlin.
The East is generally more charming, cosy and calm but lively than the West. Multicultural and alternative Kreuzberg (in the West) is an exception. Except for a small part of Kreuzberg, I typically do not spend much time in the West at all.
Berlin is an enormous city, the distance from one place to another is insane. You might look at a map and think: "oh, but it's only 3 streets from here, we might as well walk.". Well… you could, but each of those streets is probably 3 kilometres long, so… knock yourself out.
Don't bother getting up early in the morning when you go to Berlin. Berliners typically get out of bed pretty late. Other Germans make fun of this, that Berliners like to sleep at least until 10 am (10:00), preferably later, and only work 3 days a week.
In most big European cities, 9 am (09:00) is typically guided tour hour. It might be hard getting around in some cities at this time because there are too many large groups of tourists and guides clogging the streets (made that mistake in Riga. Had to push my way home). Stay in bed till lunchtime at least. Take your time.
Since a few people have asked: my signature "Dit find ick jut" is German with a Berlin accent and means the same thing as "Das finde ich gut" (this I like ) The Berlin accent is very different from the rest of Germany and some words are pronounced in a pretty funny way. Paul, Schneider and Flake have very strong Berlin accents.
Cash is king.
You will need to have cash on you when buying anything in Berlin. Most places do not take cards at all. This includes shops, cafés, bars, restaurants, fast food places and taxis. A lot of places also want you to have small change when paying for something little. In the downtown West parts, it might be a bit more common to take cards, but don't take the chance, it usually isn't.
When to go:
Apparently, the best time to visit Berlin is in April. Then it is springtime, the city is starting to get really green, the weather is good and the tourist season has not started yet. This is when the locals enjoy their city the most. However, you don't really need to worry. There are always lots of tourists in Berlin and it doesn't really matter. When I go at the end of September - beginning of October, it's usually one of the busiest times of the year and it's still pleasant and often quiet. It's easy to avoid crowds of tourists. I prefer to go in September/October. Then it is still late summer, often pretty warm, very green and you can sit outside when you go to cafés. Many places like Biergartens and some clubs and parks are only open from May till September.
In winter and the month before Christmas, it is usually very quiet.
If you are going in April or May, do NOT go during the first of May or a day or two just before or after. During first of May, Berlin and especially the otherwise peaceful Kreuzberg, is often a war zone with riots and cars being set on fire.
Where to stay:
If this is your first visit to Berlin, then I recommend that you stay in the part called
Mitte
- that's where you'll find most things people usually want to see on their first visit.
Prenzlauer Berg
in the old East and
Kreuzberg
in the West are also parts of town with lots to see and do and generally the areas people end up liking the best. From there it is also easy to get to the things in Mitte.
Friedrichshain
and
Schöneberg
are also nice areas around Mitte, but they are a lot more anonymous than the other big parts, not as much you might want to see, not as many popular and well known restaurants, cafés and bars.
Wedding, Neukölln, Pankow, Wilmersdorf, Treptow
- then you are starting to get a bit far away from the most popular things and there is not so much going on for just a quick visit. You'll be spending most of your days travelling to the other, more central, parts then.
Potsdam
is another town altogether, even though it counts as a part of Berlin. Pretty far away, so you need to plan for a trip here but there is lots to see. The castle Neues Palais is were Schneider married his now ex-wife Regina.
Hotels:
I always stay at the same hotel on Anhalter Strasse, which is right on the border of Kreuzberg and Mitte. For me, the hotel room is very important. A lot of people just use it as a place to sleep and keep their stuff, but for me it needs to be a "home away from home". I like to spend a lot of time in the hotel room, so it needs to be cosy. My hotel is
Suite Novotel, Anhalter strasse 2
. Then you get a suite that has a big bathroom with shower & bathtub and a separate toilet, a mini-kitchen with sink, microwave oven and mini fridge. The room can be divided in two parts with a sliding wall and has a double bed and one single bed. Some rooms have an extra bed under the double bed, so 4 people can sleep comfortably here. Chose a room towards street, it might seem noisy, but you get a great view of Berlin from the floors higher up. Rooms facing the back are REALLY noisy in the morning when they deliver stuff and the view is boring. Free wifi and on Thursdays you can get free massage. The hotel will also lend you a Smart car for free during your stay.
This is the view from my hotel. It might look like Berlin is far away, but I promise, you are right in the middle. The Berlin Wall is across the block, Potsdamer Platz, Brandenburg Gate and Unter den Linden is just up the street and Checkpoint Charlie and Friedrichstrasse is just a block away. Right at the end of the street you have the beautiful ruins of Anhalter Banhof.
My hotel is usually €65 a night, but it can be 80 or 100 a night depending on how busy they are. There are many really nice hotels all over Berlin in this price range, but if you are happy with just a place to sleep and keep your things then you have many hostels to chose from that cost €9, €13 or €20 a night and they are still nice places. Often in very central places in each part of town.
My friend who works at the hotel, recommended two hotels to me when I mentioned that I wanted to stay a few nights in Prenzlauer Berg. Since he knows what kind of hotels I like. These are about €90 to €120 a night.
Kastanienhof
- Right on the most happening street, Kastanienallee. Then you are very close to all the popular places in Prenzlauer Berg. The rooms are small but comfortable. Not such a long walk from Hackeshe Höfe and the shopping/café/bar streets in Mitte.
Zarenhof
- Right next to Kulturbrauerei. Also right in the middle of everything basically. Bigger rooms, some with a little kitchen. My friend recommended it, but he says the Russian family who owns it are "very Russian". So if you are not used to a typically Russian or Eastern European mannerisms, you can find them a bit rude or harsh, but they mean well and it's quite a classy place.
Other hotels on my street, Anhalter Strasse, on the border of Kreuzberg/Mitte are:
Relexa
,
Ibis
and
Ibis Budget Hotel
. My friend says they are all decent places to stay. The prices can change from one night to the other. There are several other good hotels right next to Anhalter Strasse as well, like the
Mövenpick
Hotel.
Other recommended hotels and hostels of different comfort levels, from €13 to €100 a night. It's pretty easy to find a place to stay for €9 to €30 in other parts of town as well and they are decent places if you are not looking for a big hotel room and just want a place to sleep.
Prenzlauer berg:
103 rooms
- Kastanienallee 49
Eastseven
- Schwedter Strasse 7
Hotel 4 Youth
- schönhauser Allee 103
Kreuzberg:Hotel Sarotti-Höfe
- Mehringdamm 57
Baxpax Berlin
- Skalitzer Strasse 104
Die Fabrik
- Schlesische Strasse 18. A cheap but very charming hotel in an old factory building. Very popular and lots of alternative people to hang out with.
Getting Around
You will most likely land at Tegel airport. The best way to get into town from there is to take a taxi. It usually costs about €20 and it's definitely worth it. When you take a taxi to the airport the taxi driver asks your destination and takes you to the right terminal.
There are airport busses, but I do not know their prices or how they go. I just know that it can be confusing which one to take and where to get on and off.
The best way to get around in Berlin is to walk. Even though it might be far, there is so much to see along the way that you won't think about the distance. You'll discover lots of new interesting places, no matter where you go. Plus there are many nice places to stop for a break.
If you don't want to walk, the U-Bahn, S-Bahn and busses also take you to almost every place in Berlin. In the East parts of town you can also take the tram. You can get the
Berlin Welcome Card
that is sold in many places. The hotels usually sell from 24 to 72 hour cards, but in the tourist information places you can get welcome cards for a whole week. With the card you have access to all the local busses, trams, S-Bahn and U-Bahn and can easily get around. Check:
www.visitberlin.de/welcomecard
The many double decker tour busses with guided tours in English and German offer an easy way to see all the main attractions. You buy tickets at many of the stops and you can get on and off at any stop you chose.
For English speakers, there are private tours of Berlin and Potsdam offered in some hotels. You call and book it, a car picks you up outside the hotel and takes you to all the interesting places while explaining what they are in English. The drivers are usually native English speakers. These tours are a bit expensive, but worth it if you want to see and know a lot. The Berlin tour is €35 and the Potsdam tour €55.
If you ever have to take a taxi in town it is very reasonable, when I go from my hotel on the border of Kreuzberg/Mitte to Prenzlauer Berg (about 13 km) it is usually around €9.
What to Eat and Drink
Since Berlin is not the most German city, traditional German food is not the main thing on the menu. So if you feel like eating sushi 6 days a week, or Mexican or Turkish food, then do so, you will not miss out on anything. Berlin is mix of everything and has a lot to offer. Don't feel like you have to eat German food in Berlin. In Berlin you eat Berlin food and the most typical Berlin food of all is of course the
Currywurst
. A type of hotdog usually served with French fries, drenched in ketchup (I mean it; it's bathing in it) and flavoured with curry powder. If you are going to eat it, then go to
Konnopkes Imbiss on Schönhauser Allee in Prenzlauer Berg
. This is the original Currywurst place in Berlin. Located right under the Eberswalder U-bahn train bridge and has been here since the 1930s. Extremely busy at lunchtime.
Konnpke's Currywurst amd fastfood, Prenzlauer Berg.
There is a great vegan version of Currywurst at
Yellow Sunshine
in Kreuzberg.
Another very Berlin food is
Döner kebap
. Kebab. Can be found pretty much anywhere, especially in Kreuzberg, and comes in many varieties, chicken, falafel, lamb and also vegan/vegetarian (called Gemüsekebap).
Currywurst and Döner Kebap cost between €1.90 and €2.90 or depending on what you have with it. It can be one or two Euros more, but still a cheap little meal.
If you do want to eat more traditional German things, go for the more traditional Berlin things. They are very often typically East German dishes with an Eastern European influence. There is a lot of Russian and Turkish food in Berlin, but you can find any kind of food really and there are lots of vegan and vegetarian places all over town.
In traditional Berlin dishes the meat is often veal.
Soljanka/Solyanka
. The most beloved soup in East Germany and is still served in many places in Berlin. It is a Russian tomato soup that comes in many versions, some with meat/sausage, some with fish and some vegetarian with mushroom. It traditionally has pickles in it and is served with Smetana, a sour cream.
Königsberger Klopse
. Big veal meatballs boiled in white wine and lemon sauce, served with boiled potatoes and capers.
Berliner Kalbsleber
. Liver of veal, served with sweet apple rings and onions, all fried in a pan.
Wiener schnitze
l - in Berlin of course made from veal and often served with a warm potato salad.
Käsekuchen
. German cheesecake. A quite different texture than for example New York cheesecake, but delicious.
White asparagus
- only in season from March - June. There is a big festival when it is harvested in Beelitz outside Berlin. Served in many different ways, always cooked and often with hollandaise sauce.
Breakfast
- in Berlin you go out for breakfast, both locals and tourists. The hotel breakfasts are often not that good and overpriced. If you go out then you have many, many choices of breakfast and many different price levels.
Since Berliners like to get up late, breakfast is usually served until the late afternoon - especially in the East parts. Many places serve breakfast until 4 pm (16:00), some until 6 pm (18:00). In the West and the more "touristy" areas it is still served at least until 2 pm (14:00), except at Schwarzes café in the West, were breakfast is served all day and night. So no matter when you arrive or wake up, you can always have breakfast.
Lindner
- is a chain of gourmet food in Berlin. You will find the blue signs with gold letters in a few places in Berlin. There is one on Kollwitzstrasse in Prenzlauer Berg and one on Friedrichstrasse in Mitte and then a few more places all over town. It is above average price for food in Berlin, but it is well worth it if you want a treat now and then, like lobster tail and a glass of champagne. They have all kinds of salads - tomato & mozzarella or filet of lamb, spice and vegetables, wraps with Italian ham, tomato and rocket salad or goat cheese and many more things. You can also buy wine, coffee, chocolate and other food things, either to take home or eat it there. It's not really a café, it's mostly a shop, but most of the Lindner places have a table or two where you can sit.
DrinksBerliner Weisse
. A classic Berlin beer that can be hard to find outside Berlin. It's a very sour wheat beer, that is mixed with sweet fruit syrup that colours it red or green. Comes in two flavours: raspberry or Waldmeister, a flower. You might like this even if you don't like beer at all. It does not taste like beer or cider. It has a very unique fresh, sour taste. Just make sure to get the kind that the bartender has to mix for you. Do NOT drink the pre-mixed kind in a bottle. It is not the same thing
and it tastes absolutely horrible.
Berliner Weisse, mixed by a bartender and served in the proper glass.
Schultheiss Pilsner
- Berlinian beer, once brewed at the Kulturbrauerei which was then Schultheissbrauerei. Can be hard to find, but Konnopkes Imbiss, almost right next to the Kulturbrauerei, has it.
Rotkäppchen Sekt
- Sparkling wine from the oldest producer of sparkling wine in Germany. Means "Little Red Riding Hood" and comes in bottles with a red bottleneck. It was known as poor man's champagne and was very popular in the DDR (Feeling B had it on the table during their naked breakfasts). Today it's a real "Ostalgie" thing and you'll find it in most places that sell alcohol. It's really nice actually. If you want to try real Ostalgie candy, then try and find
Halloren Kugeln
, chocolate balls. A few food stores in Berlin have them, otherwise they can also be ordered from the Ossiladen.
Coffee lovers chose
Milchkaffee
. A Berlinian caffe latte or café au lait really, not as strong as cappuccino. A "Schale" Milchkaffee is a bowl of coffee.
Many cafés are also bars and restaurants, so they will serve alcohol and all kinds of food and you can go there and have breakfast in the morning, cake and coffee in the afternoon and a meal and some drinks in the evening (might seem obvious to you, but this would be totally illegal in Sweden).
Life does not really get going until the evening in Berlin, so many bars and restaurants do not open until maybe 6 or 8 pm (18:00 or 20:00), some places don't even open until 10 pm (22:00). Might be good to know if you plan to go out and eat a warm meal or have a few drinks. Check when they open before you go there. Cafés and fast food places are open from early in the morning.
A lot of cafés, bars and restaurants have "open end", which means they either close when it slows down at night and most guests go home, or they stay open until the next morning. It all depends. Most places are open late, until midnight or 1 or 2 am (01:00 or 02:00).
Also, be patient, the service is often very slow, especially in the East parts of town, but the staff is still very friendly and helpful. It is always polite to leave a tip, even when it says that tips are included.
Many cafés, bars, restaurants are "self service" places, which means noone comes to the table to take your order and then brings you the food. You have to go up to the bar/counter yourself and order, get the food/drinks and take it back to your table and you also go and pay at the bar. (Seems obvious to some, but it's not so common in some places.)
Most places have a menu in English and also offer vegan or vegetarian food (vegan/veganisch or vegetarisch in German). Even if they do not have a vegan alternative in the menu, many places will prepare one for you if you ask for it. If something is organic it is usually called "Bio".
Many cafés offer soy milk (Sojamilch) for the coffee and if you don't want soy milk, but still don't want cow milk you can ask for "Getreidemilch", then you get milk made from either oat, rice, almond or hazelnut. If you are allergic, you'll have to ask which kind they offer. You can also ask for "entkoffeiniert", decaf.
Mitte
(East)
Right in the middle, which is what the name means. This is where you find most the things people come to see.
Brandenburg gate, Under den Linden, Museumsinsel, Berlin Cathedral, Alexanderplatz and the TV-tower, Hackesche Höfe, Potsdamer Platz, Friedrichstrasse, Checkpoint Charlie, remains of the Berlin wall, Topografie des Terrors, Luftwaffe Headquarters, Holocaust Memorial, Neue synagoge, Tacheles
.
It is the area that has the most tourists, therefore it is very busy during the day but large parts of downtown Mitte dies off during the evening and night, so it can be a bit boring and empty if you don't know where to go. About 80,000 people live here, but only 9,000 of them are Berliners. The rest are foreigners and other West Germans.
The happening places in the evening are the old streets between Hackesche Höfe and Rosenthaler platz and the very long Torstrasse that divides Mitte and Prenzlauer Berg - also Friedrichstrasse as well during the day, as well as Unter den Linden and Potsdamer Platz.
Unfortunately, the most famous street, Unter den Linden that leads up to the Brandenburg gate, basically doesn't exist at the moment. The whole middle of the street is completely dug up and won't be finished for a few more years. Many of the famous buildings are also covered up and being renovated. Many of the linden trees have been cut down. There is still some great shopping and cafés along the sides, but it is noisy, messy, the view is ugly and it smells bad.
Bebelplatz
. Where the Nazis burnt all the books. Through a glass window in the ground you can look down into an underground library with empty shelves. A creepy memorial of what happened.
Hackesche Höfe
. A series of 9 connected inner courtyards. Once old storage buildings, now turned into flats, hotels, galleries, cafés and shops. There is an ancient spring, now a fountain, in one of the courtyards. Walk around, look in the shops, stop for coffee or dinner.
Rosenthaler Strasse 39
. The only inner courtyard that has not been renovated since the war. It looks like a disaster and scumbag place, but is nothing like it. Here the underground culture is still very much alive and kicking, very lively and friendly. You'll find Eschschloraque Bar and Café Cinema here, an Anne Frank Museum and Otto Weidt Blindenwerkstatt, a museum about the old factory here. The owner tried to hide Jewish workers from the Nazis, but it didn't end well.
Tacheles
. Especially interesting for
fans. A bombed out and half torn down old shopping mall. Centre of the underground culture since 1990. Occupied and run by artists and musicians. There was a café and bar, a cinema and workshops here. Feeling B hung out and had concerts here, Paul played clarinet with a few bands, Flake's wife worked in the café and as an artist. Spray painted from floor to ceiling and smells like marijuana. Unfortunately closed down now, but you can still look around.
Monbijoupark and Berlin beach bar
. In the middle of town, right on the stinky, green river Spree and behind the big museums, there is a green little park with a beach. A strip about six feet wide with real sand and palm trees. Have a drink, listen to music and relax in the beach chairs. Berliners make do with what they have. No beach in sight? Make one!
Nikolaiviertel
. This is "old Berlin" a few blocks with houses and narrow cobble streets that have been restored to look like Berlin did around 1700-1800. Many cosy cafés, shops and pubs. The Kaffeestube is a nice place for a coffee and breakfast. The church Nikolaikirche was completely destroyed in the war but rebuilt in 1982. Inside you can see an ancient whale bone dug up underneath it.
Stadtmauer
. The original Berlin city wall from 1250. Only a small fragment left.
Franziskanerkirche
. Ruins of an old monastery.
Gendarmenmarkt
. Berlins most beautiful square with the French and German twin cathedrals and Berlin concert hall.
Museumsinsel
. An island in the Spree river, right in the middle of Berlin. Here you find several of the most famous museums, such as the Egyptian museum and Pergamonmuseum that is home to treasures like the Nefertiti bust, the Pergamon Altar and the Ishtar gate. On the island is also the Berlin cathedral and the old East German government building, Staatsratsgebäude (where Ich will was filmed).
Humboldt Box
. If you are interested in knowing about the reconstruction of the Berlin city castle, then this blue cube-like building is a kind of information centre for it. It cost €2 or 3 to go in and you get information about how the new castle will look and how far they have come with the building and such. There is also a rally nice rooftop restaurant with a great view of Berlin's historical buildings and the building site for the new castle. Well worth a visit even if you just want to enjoy food or drinks with a great view. The box will not be there anymore once the castle is finished, but don't worry, you have until at least 2019.
Eat, Drink and Party
Eschschloraque
- Rosenthaler Strasse 39, second inner courtyard. One of the first out in the open underground clubs after the fall of the wall. It looks like a sh*t-hole, and like a place where you should not be at night, but I promise, it's a very friendly and laid back place at any time of the day/night. Stop for cake and coffee after shopping during the day or have a calm drink at night. I recommend the Caiprinoshka (A Caiprinah made with vodka) and the coffee is excellent. The building has not been restored since it got bombed, it looks like it will fall apart any second, broken bricks, grey cracked concrete and decorated with scary metal monster sculptures, but if you can handle that, it is one of the cosiest places in Berlin. During the summer you can sit out in the courtyard. Different kinds of music, techno, lounge, jazz, sometimes a DJ or performance with dancers. The strange name is not a real word, but sort of means "Chlorine-water fish." It just refers to one of the sculptures in the bar.
Barcomi's Deli
- Sophienstrasse 21, second inner courtyard. Owned by an American dancer, Cynthia Barcomi. Some of the best coffee in Berlin and you get a glass of mineral water with each coffee. Many kinds of home-baked American cakes - you get BIG pieces, bagels, sandwiches, wine. Different vegetarian/vegan spreads and salads if you don't want something from the large selection of cheese and salami and other things. Super cosy courtyard between old storage buildings.
Zur Rose
- Weinbergsweg 26. Small and super cosy bar and café. The interior is from an East German living room, even the wall paper and the photos on the wall. Several kinds of breakfast, good coffee, cheesecake, lots of drinks, some warm food and small snacks, like olives or rice pudding. All at a low cost. For example: the sweet breakfast is €4.50, Cheesecake €2.90. Friendly staff, comfortable old furniture, open late - a place to stay for a long time.
Kaffee Burger
- Torstrasse 60. Russian Night club/bar/café/restaurant. Described as: "You dreamt of Moscow, but could only afford Berlin? Go here." Russian food, Russian disco, lots of Russians, red lights and vodka. Berlin writer Wladimir Kaminer sometimes reads from his books or DJ:s here. Release parties, movie nights and concerts. Depending on what kind of event they have, it can cost €5-€13 to get in and it seldom opens before 9:30 pm (21:30).
Nola's am Weinberg
- Veteranenstrasse 9, in the park. Swiss restaurant right on the border between Mitte and Prenzlauer Berg and a view of the Weinberg park, which is a lush green area. If you chose the breakfast "Langasam und gemütlich" (slow and cosy) for two people then you get a mixed breakfast with bread, meat, cheese, yoghurt, fruit, honey, marmalade and two glasses of sparkling wine.
Mein Haus am See
- Brunnenstrasse 197-197. Café/bar in an old cinema. Always open, around the clock, never closes. Sometimes they have coffee, cake and breakfast in the middle of the night, sometimes not. It depends who is working. Sometimes very quiet, sometimes packed with people, especially if they have a DJ. Bizarre place really, but not bad if you don't want to go home at night. My husband once got told off by a female guest because he did not immediately speak French with the barman, one night there was like six people in there all night, including a young couple who were practically making love on the couch and there was a woman asleep in one corner. The staff and other guests didn't even react.
Café Cinema
- Rosenthaler Strasse 39. Open very late, relaxed and calm even though its almost always busy. Good coffee and drinks, friendly staff and comfortable furniture. Has an old fashioned look too it and feels like it has a lot of history. Popular among locals.
Zur letzten Instanz
- Waisenstrasse 14-16. Berlin's oldest pub. Has been here since 1621. Napoleon's troops used to go here. Serves traditional Berlinian and German food.
Otito
- Leipziger Strasse 30. Simple little restaurant with great selection of Vietnamese food and sushi, lots of vegetarian alternatives. Calm, quiet and good quality food. Low prices.
Friends RecommendSchwarzwaldstuben
- Tucholskystrasse 48. A very kitsch and purposely tacky place that serve great southern German food. The Flammkuchen (almost like a pizza, but lighter and fresher, on a very thin crust) is recommended. Book a table, the place is very popular, but still has pretty low prices. Fun and cute.
If you like Italian food, then go to:
Mädchenitaliener
- Alte Schönhauser Strasse 12.
Sale e tabacchi
- Rudi-Dutschke-Strasse 23.
Both are very popular among media people, both always busy but still pleasant and the service is still good. The food in both places is excellent, the prices reasonable. If you don't get a table right away you can wait at the bar and have a drink.
You can skip:
The restaurant in the TV-tower. Many guides, locals and tourists will tell you the same thing: the food is not that good and the restaurant not especially nice. Not worth it. You go up here for the view if you go at all, but count on long cues, crowding and waiting.
Avoid:
All the restaurants/pubs/cafés at Hackescher Markt and along/under the train bridge there. They are all tourist traps. Bad food, bad quality, rude staff, they don't offer what they have on the menus. Barist is the worst place, don't be fooled by the crystal chandelier. The whole square attracts drunks and drug addicts who scream and throw beer cans at you. It is dirty and smells like piss and puke. Not the best place to walk past at night either. This isn't just my opinion or one bad experience, locals and tourists will tell you the same. Continue a little further, to Hackesche Höfe and the shopping streets there instead, which is a great area.
Prenzlauer Berg
(East)
This is the part of Berlin that most people fall in love with. This is also the most
part of town. It used to be a place where only poor workers lived. Most houses where broken, dirty and there was no hot water or bathrooms in the flats, they all had outhouses. Prenzlauer Berg became the centre for the underground culture, illegal punk concerts, homosexuals and everything else that was forbidden.
Schönhauser Allee 5 and Fehrbelliner Strasse 7
is where Aljoscha and the rest of Feeling B lived and worked for many years. Now Prenzlauer Berg is renovated and rich and I think there is only one occupied house left in the area (on Kastanienallee. The most broken house on the street.). Lots of young people live here and the area has the most baby prams in Europe. Very popular for shopping, living, clubs, restaurants, bars and cafés and you'll find many of the best, cosiest places in Berlin here. Prenzlauer Berg is a very green area with many beautiful restored old houses, very lively but still very relaxed, calm and quiet. The most popular streets are
Schönhauser Allee
and
Kastanienallee
(nicknamed Castingallee). On Oderberger Strasse you can go and check out Nikki Landers (Paul's ex-wife) clothing store. Part of Schönhauser Allee is still very popular among homosexuals, since it was the centre for East Berlin's gay scene back in the days. Many bars and cafés are unofficial gay places. Not specifically advertised as gay, but preferred by homosexuals.
Kulturbrauerei
is a very popular place among locals. The old brewery is now a happening centre with a lounge bar, a night club, indoor concert hall, Kesselhaus, where Metal Hammer awards Berlin are held, outdoor concerts in the courtyard and a popular and cosy Christmas market in the winter. A designer furniture store, a museum, a cinema and Radio Eins Berlin (where
did several interviews) are also found here. There are festivals, performances, yoga and dancing and all kinds of things going on here all the time. Check their event calendar. Very cosy old factory environment.
Kollwitzstrasse street market
. If you are in Berlin on a Saturday, then you should definitely go here. Very charming little street market that sell vegetables and all kinds of meat and cheese, flowers, clothes, organic soaps and cosmetics, handmade stuff. They serve different warm and cold food and drinks too, like Bratwurst with Sauerkraut, Falafel, coffee, cakes and sandwiches, in the winter you can drink Glühwein with Amaretto. So it's a great place to eat breakfast or lunch as well. Very lively and a great opportunity to mingle with the Prenzlauer Berg locals.
Many of the great bars and cafés worth a visit in Prenzlauer Berg have pretty funny names, such as:
Wohnzimmer
(Livingroom),
Liebling
(My love/Sweetheart),
Kauf dich glücklich
(Buy yourself happy),
Zu Mir oder Zu Dir?
(My place or yours?),
Lass uns Freunde bleiben
(Let's stay friends),
Ruf mich nie wieder an
(Don't ever call me again),
An einem Sonntag im August
(On a Sunday in August) and
White Trash
.
Last Cathedral
- Schönhauser Allee 5. This is the old Feeling B house, where Paul, Flake and Aljoscha lived and had their parties and underground cafés, concerts and stuff. Today, it's a horror rock bar. Usually opens at 8 pm (20:00) and stays open until all the vampires have to go home in the morning. It is a Goth/vampire place that plays a lot of hard music, a lot of metal. You will hear quite a few
songs, sometimes even Feeling B. The drinks are good (I recommend the Bloody Mary) and you get a candy bat in your drink. You can also drink Rotkäppchen sparkling wine here. €18 for a big bottle. And no - you do not have to look goth, vampire or steam punk or be a certain age to fit in here. People of all ages and styles go here.
White Trash
- Schönhauser Allee 6-7. Right next door is the famous White Trash fast food. The theme of this place is "too much" and the food a mix of American Diner, Chinese food, Mexican food and some other things. The menu is written in a very funny and often blunt way (Like: "F*ck off fries" and "onion rings cost extra because they are a pain in the *ss to make") . There is a lot to chose from, the food and drinks are all high quality, service is very friendly and the place is super cosy. Very popular, so book a table if you want to go. If you haven't booked, you can sometimes have a time-limited table, which means you can have it until the people who booked it show up. I got to have a table for 2.5 hours without booking once, which was more than enough. The Bloody Mary is excellent, and you get half a tree in it. Sometimes there are concerts, movies, release parties and other events here and a lot of well known Berliners go here, a mix of punks, surfers, retro rockers and so on. One of the best clubs in Berlin.
This place is also a tattoo studio (in the basement).
No Pain No Brain Tattoo studio
. This isn't just a shoddy little place, some of Berlin's best tattoo artists work here and they have guest artist from all over the world. Maybe a good idea if you're thinking of a permanent memory from Berlin.
http://www.nopain-nobrain.de/
Prater
- Kastanienallee 7-9. Berlin's oldest Biergarten. Outside they have 600 seats. The garden is only open from April to September, but the indoor restaurant is open all year. This is right on the busiest, most popular street corner in Prenzlauer Berg. A lot of locals go here. They serve lots of different beers and traditional German and Berlinian food. The food is very high quality, some of the best in Berlin. The outdoor area is self-service while in the indoor restaurant you can order at the table. Prater even has their own local beer that you can only get here. Sometimes there are concerts, theatre plays performed or you can watch sports games. If you plan a night at Prater with some friends, it is best to reserve a table as the place is always busy and almost full. This is as Berlin as it gets if you want to go were the locals go.
Pasternak
- Knaackstrasse 22. The best traditional Russian food you will have in Berlin. Excellent quality and lots to chose from, both dinner and breakfast. They also have typical Jewish food (albeit not kosher). Really good coffee. Try the espresso with Russian herbal liqueur, or try kvass - a sweet malt drink with very low alcohol. (Though Paul once complained that the kvass here isn't as good as the stuff you get in the streets of Moscow. Never mind him.) Hot chocolate with vodka is lovely too and the tea is served in traditional Russian tea glasses.
If you are in Berlin on a Sunday, you should definitely try their Sunday brunch buffet. Huge selection of different types of Russian food and cake. You can't book a table for the buffet. This place is famous and the buffet super popular, so get here when they open at 9 am (09:00), or be prepared to wait outside until you can get a table. The place is very small, it's basically just a Russian family's private living room, but it's worth waiting and the staff will still serve you your coffee outside and come get you when a table is free. (I waited an hour last time in December.)
Most of the staff only speaks German or Russian, only one of the waitresses speaks English.
Wohnzimmer
- Lettestrasse 6. My favourite place in Berlin. The name means "living room" and this really looks like it was once a rich old lady's living room that was forgotten for many decades. Beautiful, old, luxurious furniture that is a bit worn down, grey walls with cracks and the paint coming off, flowers and candelabras. The old wooden floor sags when you walk on it. Small and extremely cosy. All vegetarian and I think also organic food and coffee. Different kinds of home baked cakes, sandwiches, soups, wine and other drinks. Service is super friendly, the guests laid back and relaxed. Open until the morning and you can get cake, some food and coffee all night. Breakfast is served until 4 pm (16:00), a few different breakfast alternatives. There are a lot of homosexuals in this area and many of them go to this café/bar. Beautiful, calm place with a lovely atmosphere. Low prices too. A lot of people have a problem finding this place, because if you miss the tiny sign in the window, you walk right past it. Not a place where you go dancing, there is no room. This is a place for sitting, talking and relaxing or working away on your laptop since they have free WIFI.
Anna Blume
- Kollwitzstrasse 83. Beautiful, slightly more fancy place on one of the most beautifully lush streets in town. It's actually a combined café, bar and flower shop and the place is named after a famous poem that makes fun of love poems. Some of the best cakes you will find in Berlin, you get huge pieces, and also some of the best breakfasts. If you are 2-4 people you can chose the étagère breakfast, which is a mix of fruit, bread, cheese, salami, ham, marmalade served in several tiers. Also comes as vegetarian. Many kinds of tea, great coffee and wine. Very friendly staff. One of my absolute favourites for breakfast or late evening coffee and sparkling wine. Still low prices.
November
- Husemannstrasse 15. Berlin classic. It has been here since 1993. (Not many places older than that in the East parts.) It is actually a gay café, the waiters are usually gay and you might see some gay couples holding hands, but it's open for everyone and not really advertised as a gay place. It's a simple but cosy and slightly run down place, friendly staff and good food and coffee. Many kinds of excellent breakfast and some traditional Berlinian and East German food that is definitely worth coming here for. Great coffee and cake too and you can drink Berliner Weisse fruit beer.
Bonanza Coffee Heroes
- Oderberger Strasse 35. They claim to have the best coffee in Berlin, and they might actually do. The café is just a very small, run down room, with some shoddy old rough-looking furniture and some benches outside, but it is so worth coming here. The coffee is delicious! Sometimes they have really nice cheesecake or cookies, but they usually run out of it pretty early in the day. You have to give your name when you order coffee and then they call your name when you can come and get it. Average price for coffee, they prefer if you have even small change and this place can be extremely busy during the nearby flee market on Sundays.
Schwarzsauer
- Kastanienallee 13. A classic in the area and the smokiest place in Prenzlauer Berg. Small, simple, worn down but charming place. Good coffee and brownies, even late at night, cheap wine. Good for people watching and a lot of locals in the crowd. Open very late. Try the drink the place is named after: Schwarz Sauer (black and sour) - Guinness and champagne.
Konnopkes Imbiss
- Schönhauser Allee 44a. Right under the Schönhauser Allee train bridge, by Eberswalder U-bahn station in the centre of Prenzlauer Berg. If you necessarily have to try Currywurst in Berlin, then go here. This is the original Currywurst place that has been here for 80 years. Here you can also drink Schultheiss Bier, original Berlin beer.
Lass uns Freunde Bleiben
- Choriner Strasse 12. Very simple and plain little café in the slightly poorer and more quiet part of Prenzlauer Berg. Looks a bit boring but has excellent cake and coffee and a really cheap but great breakfast for €3.50.
Friends recommend:
Kaffeeraum
- Bötzowstrasse 25. A very untypical Berlin place. A lot more cleaned up and fancy than the average Berlin café. They have actually spent some money on the furniture and decorating and people say it feels more like Vienna or Paris than Berlin. Many kinds of breakfast - they even make their own nougat spread if you chose the sweet breakfast. Great quality food, cake and coffee.
Café Liebling
- Raumerstrasse 36. Also a more cleaned up and untypical Berlin café. More of a trendy design place but excellent food. Homemade soups, sandwiches, salads and cakes, great coffee and wine. Most of it organic.
Anita Wronski
and
Bar Gagarin
- both on Knaackstrasse, where Pasternak is. Good alternatives if you don't want to wait for a table at Pasternak. They both have excellent breakfast and the patios have a nice view of the old water tower and the quiet, cosy old street. Very quiet area on early Sundays. The Berliners are sleeping and the tourists are all hung over.
Manolo
- Schönhauser Allee 45. Great for people watching, view of the busiest corner in Prenzlauer Berg. Only slightly more expensive than average cafés in Berlin, but they have great coffee and cake and it's calm enough to work away on your laptop. Or sit outside on right the street corner and watch interesting locals and tourists.
Kreuzberg
(West)
Kreuzberg is one of the greenest areas of Berlin. It is very charming, cosy and multicultural. People often mention that this is where the Turks and the gays live and they mean it in a friendly way. Kreuzberg does have a large Turkish and a large gay population. It's also the area that all the alternative people in Prenzlauer Berg first escaped too when their part of town became "too Western", so there are lots of punks, alternative people and artists here.
This is the place were you can go to events like "Emancipate your nipples" (topless party for men and women) or Saturday bingo with transgender people.
Kreuzberg actually has two centres,
Oranienstrasse
on one side and
Bergmannstrasse
on the other side.
Oranienstrasse is a bit more poor, run down, spray painted, broken and trashy - but very friendly and cosy. This is the more alternative side. Lots of great shops, lots of rock, punk and alternative stuff and many great places to stop for a meal or coffee break, great Turkish fast food.
Bergmannstrasse is a bit more cleaned up and beautiful, but this is still Berlin, so don't get any ideas… It's still pretty run down and spray painted. Also lots of great cafés and slightly fancier shops.
There are many homosexuals living in Kreuzberg and especially Mehringdamm, near Bergmannstrasse, is a popular meeting place for gay people, with a gay museum and some gay bars. You will see gay couples holding hand and kissing each other in the streets and restaurants anywhere in Kreuzberg.
There is also an area called
"KreuzKölln"
, because it borders the area Neukölln. This has become a kind of third centre in Kreuzberg and all three areas are absolutely packed with great bars, cafés, clubs and restaurants.
Along the water,
Paul Lincke Ufer
, there are also many, many great places where you sit right by the water. If one is busy, just go next door, they are all pretty good quality.
Like Prenzlauer Berg, Kreuzberg is very beautiful and a great place for walking around and just enjoying being in town.
What to see:
Viktoria Park
. A very green park with West Berlin's highest natural hill. An artificial waterfall, a great view and the beautiful Schinkel monument on top of the hill. Great place for a break.
Turkish food market
. Tuesdays and Fridays 12:00 - 18:30, there is a big market by the Maybachufer. Here you can buy and eat lots of Turkish and other exotic food, vegetables, bread, fish, spices and fabrics and clothes too. Cheaper than in the supermarkets and a lovely cultural experience.
Food and drink:
Luzia
- Oranienstrasse 34. Famous Kreuzberg bar right on the most popular street. It looks like and old, worn down storage room with calm grey walls, cracks and bricks showing. Very cosy and great, friendly staff. The furniture are old and very grandmother style, but that also adds to the charm of the place. Very calm, excellent breakfast and great coffee during the day - extremely busy in the evening. I mean it, barely standing space, but just like many other places, it is still pleasant. The bathrooms are a scary experience. They are very clean, but the ceiling is super high with lots of old pipes and things going across the place, the walls are black with big scary insects painted on them. A very typical Kreuzberg place altogether. A lot of gay couples go here.
Würgeengel
- Dresdener Strasse 122. The name means 'Destroying Angel' and is the German title for a famous noir film. This place is a famous cocktail bar. Excellent cocktails and a lot of them to chose from. Many alcohol free cocktails too and just as good. A very smoky place, often crowded and you sit close together with strangers, but still always pleasant. It has a bit of a noir-feeling to it, burgundy red walls, dark wood and dark corners. That is their theme. They don't have a kitchen, but whenever the tapas bar Gorgonzola Club next door is open, you can order food from their menu and the bar staff will bring it to you.
Crêperie Bretonne
- Reichenberger Strasse 30. A little piece of Brittany in Berlin. Very simple little French restaurant on a quiet street. From the outside the place looks abandoned, so don't let it scare you. They serve galettes, a thin buckwheat pancake with either food stuff or sweet dessert on it. Many, many kinds of combinations to chose from, even vegetarian alternatives. The most popular one is the "complete" with cheese, ham and egg. For dessert I recommend the apple and crème fraiche with caramel sauce. They also serve a Bretagne specialty, pear or apple cider that is served the traditional way, in porcelain mugs (called boulee). The staff is very friendly and you can speak, English, German or French with them.
Zur Kleinen Markthalle
- Legiendamm 32. A more traditional German pub in a charming brick building. They don't have so many things on the menu and the food is very simple, but the quality and taste is excellent. They tell you to be patient, as they prepare the food from scratch and you will probably have to wait 30-40 minutes for it. Especially famous for their traditional German dish "Schweinshaxe", which is a boiled and roasted leg of pork, served with warm Sauerkraut, a piece of bread and some mustard. They have a very cosy and lush, green patio in the summer.
Barcomi's Kafferösterei
- Bergmannstrasse 21. Same owner as Barcomi's Deli in Mitte. This place is not as big and by many considered the more charming Barcomi's. Not as many tourists go here. They don't offer as many types of food, but they still have the same delicious cakes that you get huge pieces of and the many kinds of coffee is excellent - since it is their specialty.
Yellow Sunshine
- Wiener Strasse 19. Organic, all-vegan and vegetarian fast food. Great burgers and they are known to have the best French fries in Berlin, homemade, organic and delicious. I love the vegan gyros plate with fries and vanilla soy latte. They also have vegan Currywurst for those who want to try the Berlin classic. Just a small, very simple place on a worn down, pretty quiet street. Very friendly staff and pretty okay prices.
Club der Visionäre
- Am Flutgraben 1. Legendary place and one of the best clubs in Berlin. A few old riverside shacks with a patio and veranda floating on the river. Super cosy environment, a willow tree covering the patio and colourful lights lighting up the whole area. Open from early afternoon until lunchtime the next day. Techno, house, different DJ:s, great bar. Open from May until September.
This place is actually in Treptow, but usually mentioned as Kreuzberg, because there is really no other reason to go to Treptow (unless you want to go and find Baumschulenweg, where Paul was born, out in the middle of nowhere. No, I haven't been there myself.).
Friends recommend:Café Morgenland
- Skalitzer Strasse 35. Café, bar and restaurant. Huge, delicious brunch buffet that is very popular, so if you want a chance to get to it, get here early.
Avoid:
Don't be tempted to go to the bar
Wiener Blut
just because of the name. It is a quite rough kind of sports bar, the crowd is not the best or friendliest and they don't really offer anything worth going there for. Take a picture of the sign and then go to one of the nice places. There are many.
Charlottenburg:
(West)
This is the richest part of Berlin and the part that most people think of when they mention "going to the West". Any (good) guide will tell you that this is not such a charming part of town and there are not so many places worth a visit. I usually don't spend much time here because there are much nicer places to be. This part of town is a bit more upper class with lots of rich foreigners and businessmen. Many of the shops, hotels and restaurants are very luxurious and expensive and it can be hard to find a cosy place at a reasonable price. It's also not a very pretty part of town and it seems a bit too busy and noisy. There are some beautiful streets of course and there are some cosy cafés and restaurants definitely worth going to.
Kurfurstendamm
is the main street with lots of shops, famous fashion labels and such. Between this street and the very long
Kantstrasse
, is the nicest area in Charlottenburg. On Kantstrasse you can also find Lady Ninas, the exklusive nightclub and bordello where
filmed the Pussy video.
The most authentic West-Berlin area is around
Savignyplatz
. Cleaner and a bit calmer than the busy eastern parts and not so many tourists. Not so much has changed since this actually was West Berlin.
Kaiser Wilhelm Gedächtniskirche
. The broken memorial church that was preserved as a reminder, "let it never happen again". There are still church services here, a new tower and church room are built on either side and there are some interesting things to look at, like the Coventry Cross. A small cross made from nails found in the remains of Coventry Cathedral in England after the Germans destroyed it.
The ruin started falling apart a few years ago and was enclosed in a metal case until December 2013. Inside the church is a 650 metre long scroll with all the names of people who donated different kinds of metal, old jewellery and other things that were melted down and used to "glue" the ruin together again.
Eat, Drink and Take a Break:Literaturhaus
- Fasanenstrasse 23. A beautiful and calm oasis right in the busy shopping district. A very posh villa that is now a fancy café and interesting bookshop. Big lush green garden to sit in and a big glassed in veranda. The place has many kinds of breakfast and wonderful cakes, dinner and there is also a bar. Sometimes there are poetry and book readings here or other literary events. Prices are slightly above the average Berlin café, but still very reasonable. Slightly more classy and clean than most Berlin cafés.
Schwarzes Café
- Kantstrasse 148. A West Berlin classic since 1978. Open 24/7 and they serve breakfast around the clock. Closed only on Tuesdays between 3-10 am. Always busy, but such a charming place with red and black walls, brick walls and rock music. Super cosy little patio to sit when the weather is nice, super friendly staff and many kinds of breakfast and different food to chose from, great cake, ice cream and coffee.
Jules Verne
- Schlüterstrasse 61. Simple and slightly run down little place that is very cosy and offer a fantastic selection of different breakfasts. The food is excellent and the prices still pretty low. On Saturdays and Sundays they have a huge brunch buffet between 9am - 3 pm. All kinds of food, roast beef, potato salad, fresh fruit, vegetables, tomato and mozzarella salad, salmon, cakes and fromage for dessert and many, many other things. The buffet is €14.
Café Savigny
- Grolmanstrasse 53-54. Popular laid back and simple but cosy place. Great for breakfast or a light lunch, especially the different pies. This is actually a gay café, but of course all sorts of people go here.
Hugos Restaurant
- Budapester Strasse 2, in the hotel Intercontinental Berlin. If you do want to go to a very exclusive gourmet restaurant, then Hugos is probably the best one. It has a star in the Michelin guide and a fantastic panorama view of Berlin. Great place to celebrate a special occasion. Be prepared to pay €60 or more for a dinner with drinks.
Other ThingsRossia supermarkt
. Russian supermarket open 24/7. So if you need to buy groceries in the middle of the night you can go here. They sell lots of Russian products and there is also a small fast food place here. Lots of Russians go here.
Beate Uhse Erotic Museum
. This is actually a fun and interesting thing to visit. The first floor is a big sex shop, right on a busy street corner. Then there are two floors that is the museum, one floor dedicated to modern sexuality and fetishes, the other is erotic art and things through the centuries.
Zoologischer Garten
, the largest of Berlin's two zoos and the Aquarium. Both are huge and you probably need to set a whole day aside for this. A ticket for both zoo and aquarium is about €20.