Since the news thread is a bit old and Klose is a big favourite of mine, I just thought this deserved its own thread.
http://www.morgenpost.de/sport/fussball ... rbild.html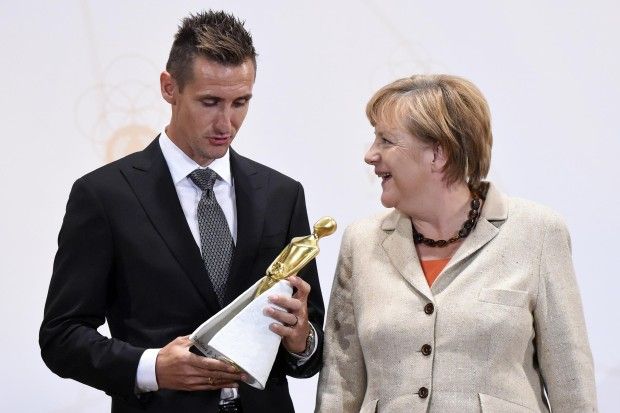 Miroslav Klose from the German National football team recieved an award from Angela Merkel, the Federal Chancellor of Germany, yesterday (Thursday). The "Golden Victoria" is a special award given for integration.
Klose has now retired from the National football team after 13 years. He is also the top goal scorer in the world cup with 16 goals. Merkel says he is a role model in many ways. For being honest, down to earth and humble and for always pointing out that they win as a team. He is also a good representative of Germany when it comes to intregration.
Klose is Polish, born in Poland and came to Germany when he was 8. He could have played for the Polish National team if he wanted to and was asked several times, but he chose Germany because he felt at home there. He says being on the team has made him feel German and feel welcome in Germany and all the fans see him as a German player, as German and are porud of him. He still identifies as Polish as well, his wife is Polish and he speaks Polish at home with his wife and kids.